The Zurich Hauptbibliothek is a modern library located in Zurich Old town, Switzerland. It was based on a real building in Scotland which can be found at the Source Images of Canon Artwork page.
The library is obviously very old, as it is a part of the Zurich Old town. However, the library has been modernized. Zurich Hauptbibliothek was the place where Isaac Newton gathered the best scientist in the world, including Karl von Toten. The conference was held on 3rd of May. The Zurichsee Zeitung was there to report of this but was unable to find out what was the scientist planning.
Storyline
Edit
In the game, Kara conducted her investigations there to find data of the missing agent K-23-15-8. She broke into the building and found out about the conference. When she looked at the floor she found a ''weird star like symbol''. Moments later, she was captured by Manfred Nikolai.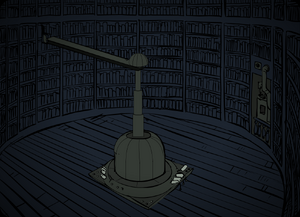 The library has an advanced catalogue system. There is an archive of book cards, which can be inserted into a machine that recognizes the pattern in the card and fetches the book from the shelf.
The cards are held behind a grating and a metal door. All of the cards are in alphabetical order according to the name of the book, so it easy to find them.
There is also a newspaper database. It holds newspapers for at least the last twenty years.
Community content is available under
CC-BY-SA
unless otherwise noted.